Strategy
An implementation manager ensures that the whole change management process stays nicely on track. You can rest easy knowing you're not in this alone. A detailed project plan will be drawn up so that all stakeholders understand what happens when and what their roles are. Afterward, you (…and your contractors) continue to benefit from our Help Desk's support. That's our guarantee.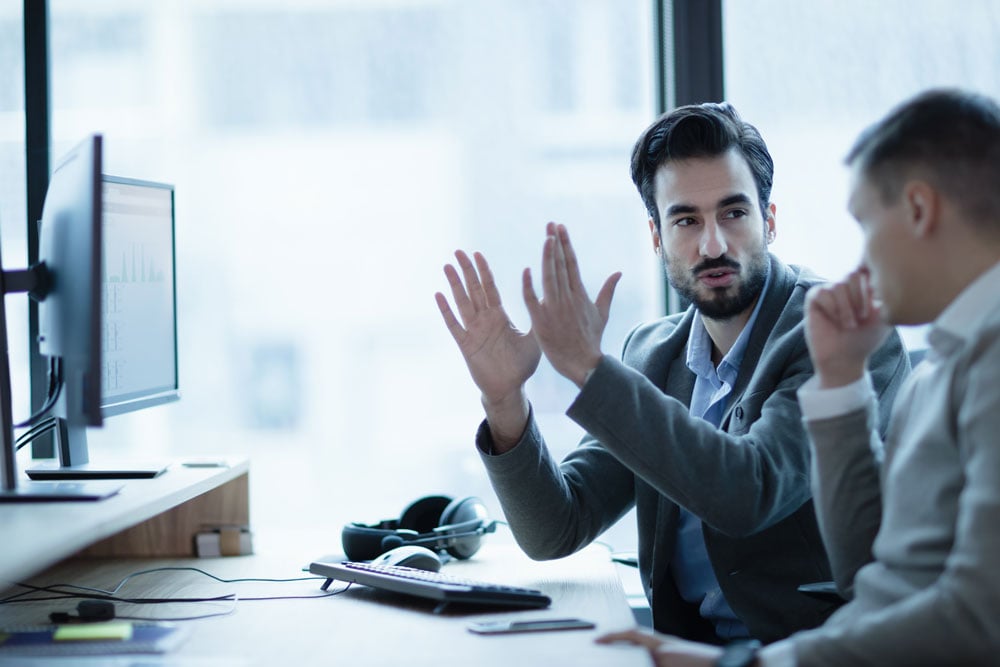 Project Group
For a structured approach to the entire implementation process, a project group containing representatives from your various departments is set up. The whole process is drafted and designed in detail during several workshops. To facilitate clear decision-making, all jobs (positions) are discussed. A project starts by delineating the scope, defining groups, and setting qualification levels and workflow at the company level.
Integration Workshops
Onyx also organizes and supervises integration workshops. These workshops cover SSO (Single Sign-On), access system integration, SAP, BI reports, and a variety of other issues. Since integration workshops are for the more tech-savvy, they are attended by the client, their external provider, and Onyx One consultants.
Beta & Live
Does everyone have a good grasp of the whole process? If so, it's time to set up a beta environment that will serve as a testing and acceptance environment. Key stakeholders are trained to use Onyx One and coached through a pilot. Pilot contractors may also be involved during this stage. The pilot's objective is to test and run all the processes. If integrations are already available, then you can expect to see them during the pilot. Once the beta environment has been modified and approved, the live environment is set up.
Contractor invitations
The live environment signals the moment for managing communication with the contractor companies. Each contractor chooses a point of contact. The contractor company registers its contact in Onyx One or shares its company details if the contact person already partners with Onyx One. If you work with lots of contractors, invitations are sent out in batches.
Onyx One is now your go-to system
Once the partnership is set up, you can start approving. And to get that job done, you can always count on our guidance and support. We also have a Contractor Care plan, the must-have option if you'd like Onyx to make everything infinitely easier throughout this process.
Onyx One Client Testimonials
"We recommend Onyx One without reservation! Loads of our on-site contractors were already using the system, and that convinced us. We're happy with the platform and the collaboration."

Fons Huybrechts
Operational Prevention Advisor
Bayer Agriculture BV
"Onyx One radically improved our contractor management. Every document and certificate is automatically tracked now. The system is user-friendly, and they've got a strong service desk."

Diana De Peuter
Finance and IT Manager
Monument Chemical BV
"Onyx One provides us with a top-notch digital safety solution for contractors, and our partnership runs smoothly."

Luc Dejonghe
HSSE Manager
Shell Catalysts & Technologies Belgium NV
"We've worked with Onyx One for years, and the number of contractor issues has decreased drastically. The platform meets our expectations, and the people at Onyx are always ready to find solutions."

Cindy Boogaerts
Security Coordinator
Pfizer Manufacturing Belgium NV
"Onyx One provides a streamlined flow, and the data security is great. We're happy with the support we get, and problems are resolved quickly."

Rudy Verstraelen
Contractor Management Coordinator
Nyrstar Belgium NV
"Onyx is an open-minded company that brainstorms with the customer. They're open to constructive criticism. The partnership is great and will hopefully last a good long time to come."

Steffi Eeckhout
HR Officer
Rousselot BV
"Procedures are much faster, and we have accurate, complete information. We know exactly who we're working with now."

Marcel Verheyden
Maintenance Execution Excellence Manager
Borealis Polymers NV

"The client has a simple tool for follow-up, more accurate data, and clear criteria based on a straightforward process."

Virginie Herbert
Project Manager Business Excellence
Umicore NV
"Onyx One is perfectly tailored to our needs. It's a user-friendly system, and the support is great."

Kate De Maeyer
Buyer
Ajinomoto OmniChem NV